JRP Signs - Certified Signage Applicators
Trade qualified signwriter with over 20 years experience, Joel Prosper and his team have built up a solid reputation as reliable, quality craftsmen with experience in a large range of mediums.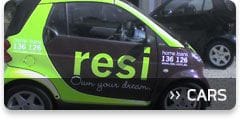 Joel started wrapping before easy apply media was launched, for example, using cast vinyls to fully wrap a vehicle. Over the past 10 years media has changed and digital images are now able to be printed and designed by the latest technology. The past experience that our team have gained has given us the knowledge to combine this with the latest techniques to deliver a higher level of quality workmanship.
As you go through our website, and view our many galleries below you will see the large variety of work we carry out all around Australia for both large companies to small businesses.
Based in Queensland, we work for the sign industry to deliver quality installations Australia wide, whether it be a vehicle wrap or a shop signage.
Check out the JRP Signs Galleries, demonstrating a selection of the past work they have done. The work includes Car Wraps for Fleet Cars, Race Cars Wraps, and Truck Wraps, Shop and Business Signage and Displays, even specialty work like Theme Cars, Carbon Fibre add ons etc.